No, not the ones we wear on our upper bodies, silly. Tops is Brit-speak for "best". And that's what our days have been! Each day seems to top the one before, and the visits and tours and walk-arounds seem to just get better and better. Wednesday was action-packed. To start, myself and 4 students headed to Lipsy's London HQ (Headquarters). Lipsy is a high street brand with 40 stores in the UK, and 12 in the US (all inside Bloomingdale's stores). Upon arrival, they had coffee, tea and biscuits waiting for us, as we sat down with Kristi Eames, their head of Retail. Kristi spent an hour talking to us about the brand, their stores, celebrities who wear their product, and great stories of her career and how she made it! She was delightful and inspiring. She then took us on a tour - past designers, pattern cutters, walls of bright fabric, and through the PR closet. Heaven. After some double air kisses, she sent us away with press kits and to-die-for goody bags.
Kristi Eames of Lipsy, showing off their PR Closet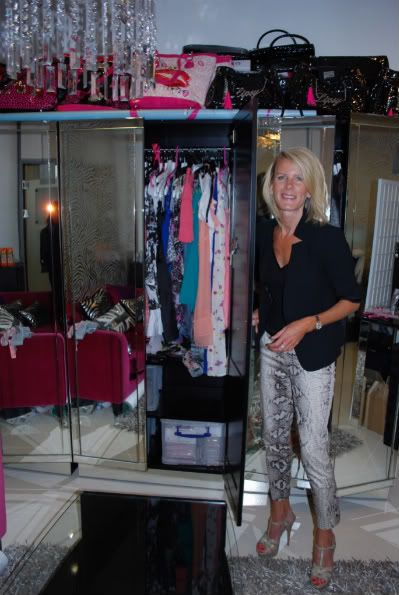 Katy, Chelsea, Cydney & Lainey at Lipsy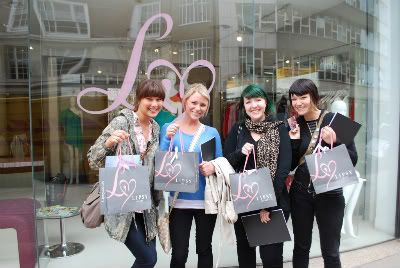 We rushed back to our classroom to meet the others - where we were just in time for a birthday celebration for Vanessa! Lucky girl gets to spend her 23rd in London!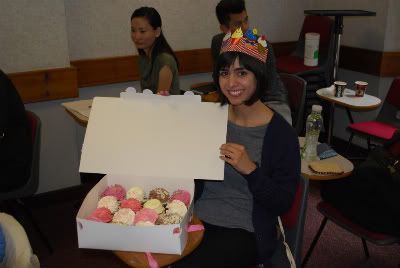 Following class, we got spiffy and tubed over to West London for Graduate Fashion Week. GFW is an incredible annual event that features graduates from all the UK fashion schools. There is an exhibition featuring each of the schools and the graduate's work - including marketing, PR, journalism, textiles, design, merchandising and more. Plus, there was a show to present the top student graduate collections. What talent the Brits have. We left excited and inspired (I'm quite certain as we watched the show, we were looking at some of the next McQueen, Galliano or McCartney's on that runway). Oh, and the best part? There were street style photogs capturing some of the best arrivals to the show, and two of our own were snatched up for a photograph! Well done Dora and Ahn!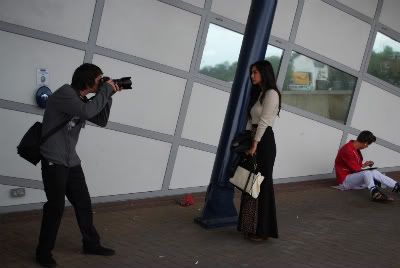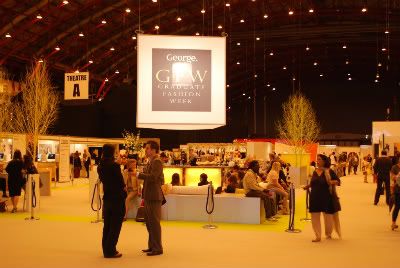 And if that wasn't enough, we rushed from GFW to Leicester Square, to take in the wonder of the stage show, Priscilla Queen of the Desert. What fun! I cannot say enough good things about this show - witty, happy and full of fun music. During the portion of the show where they bring audience members on stage, one of the cast members came down and selected Chelsea! Given her HUGE love of theatre, it was great to see her up on stage, dancing away!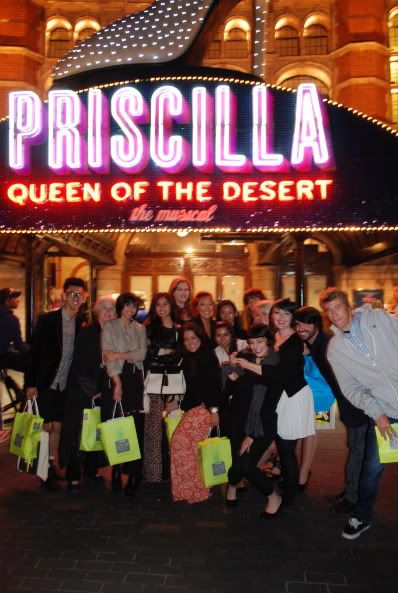 It was a tops day, indeed.