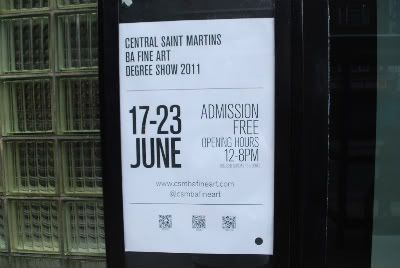 Upon our return from Paris, we were knackered (tired) and sick. We needed a low-impact day that still involved fashion, but one where we could move at our own pace. We decided to do a walking tour of some of London's top fashion stores, but first we took a visit to London's esteemed fashion school, Central Saint Martins. Every June, as the students complete their studies, Central Saint Martins puts their final projects on display for the public to view. The viewing takes place at the actual school, so you get to walk in and through the halls, stairways and classrooms...it was a bit legendary to think about who walked those halls. We were also lucky enough to see this exhibit, as it will be the last one taking place at the school's campus on Charing Cross (they will move to a brand new location in the fall). There were fantastic magazines, produced by the Fashion Communications students, as well as garments from the Design students. We found it really great that the design students were also made responsible for branding their collections. Each student had a business card and promotional postcard on display beside their collections (which we loaded up on - they were fantastically creative!). No photos inside, unfortunately.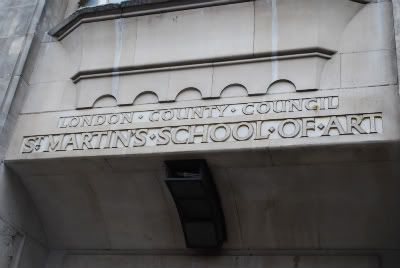 From there, we moved on to Carnaby Street, the street made famous in the 1960's as the birthplace of Mods and the Swinging 60's London. During its heyday, there were men's clothing stores dotting up and down the street, which saw lines of scooters, and plenty of Mods. Today, it's a pedestrian walking street, filled with well-known mainstream youth shops like Ben Sherman, American Apparel, and G-Star. But if you search, you will find just a small handful of shops that still carry the torch for Mod. Merc has been on Carnaby since 1967, and is probably the most well-known and mainstream. They cater to old and new Mods alike. The Face was a bit more authentic - tucked away on a little side alley off Carnaby, it's a tiny hole in the wall that stocks blazers, shoes, pants and tees - all in the original style.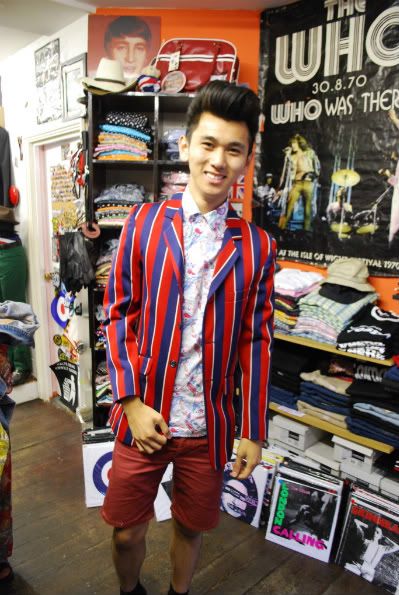 From there, we walked right into Liberty, a department store started in the 1800's that is known for it's incredible home goods which are merchandised in a flea market style. There is also wallpaper, sewing notions, fabrics, clothing, shoes, stationary and more. The best part is the store's architecture - it's housed in a Tudor-style building, complete with dark hardwood floors and an open atrium in the center, where they hang rugs from the 4th floor railings for display.
We continued our walk over to Mayfair, for a peek at Rei Kawakabu's cult-store, Dover Street Market. It's not really a market, but more of a marketplace for creativity. Kawakabu, the designer of the line Comme des Garcons, stocks her own line at the store, as well as collections from up and coming designers, including Junya Watanabe (her former apprentice). The store also stocks vintage books and shoes, and is spread out over 5 levels of concrete, austere wonderland. There's even a little cafe on the top floor, Rose Bakery.
Our last stop of the day was Selfridges, the behemoth of a department store, known for their "retail theater". This store is full of everything you could imagine - from ready to wear to hair salons to home goods to food halls, restaurants, nail salons and more. You could spend an entire day in there.
There is an old saying - If you are tired of London, you are tired of life. There is so much to do in the city every day, you could be here a year and never do or see it all. While on this "walking tour", we were heading down Picadilly and one of the students spotted this market in the garden of an old church. We popped over and found a great collection of vintage jewelry, antiques and more. It's always so surprising, every which way you turn. There isn't a single one of us on this trip who doesn't feel lucky to be here, experiencing all this great city has to offer.