This weekend was our "free" weekend - an opportunity to travel, explore and see things on your own. Half our group set out for Amsterdam, and the other half who stayed in town hit a New Romantics nightclub (so fun to see people dressed up in the style). That said, most wanted to sleep in Saturday....too bad for them! Just three of us made the brave attempt to wake early and set out for The Mall - the Royal road leading to Buckingham Palace, as Saturday marked Trooping the Colour. Trooping the Colour is the official celebration of the Queen's birthday, marked by a parade and ceremony. We were told it would be all tourists - so typical of the Brits. It was packed solid with locals - families with children and older folk who wanted to celebrate their Queen. We landed a spot right up against the gates, and not 10 minutes passed then did we feel a hush amongst the crowd - looking up we were just at the gates to Clarence House, and driving out the gates in two Rolls Royces were Prince Charles and Camilla, and Prince William and Princess Kate! I have a great shot of my arm, covered in goosebumps.
What then followed was a ceremonial parade from Buckingham Palace to Whitehall, where the Queen inspects the Troops. We had a front row seat to the parade - first came the horse-drawn carriage occupied by Prince Harry, Princess Kate, Camilla Duchess of Cornwall and Prince Andrew. Then followed by another carrying Princesses Eugenie & Beatrice and Sophie Rhys-Jones (wife of Prince Edward). And lastly came the Queen and Prince Phillip. Wow. The quiet hush and excitement that came over the crowd was the most special - no load cheers or whistles - just polite waves, and subdued cheers. Then the sweetest moment - the older gentleman next to me was so overcome, he just said in a normal speaking voice, "Hello, Queenie". I teared up.
We waited the hour or so for the Trooping Ceremony to complete, then watched the parade again, in reverse. This time, we were able to spot Prince William, Prince Charles and Princess Anne, who rode in full uniform on horseback behind the Queen's carriage!
Following the parade, we hiked up to the Palace to see the entire Royal family make their appearance on the balcony. Just before that, cannons, yes real cannons, were fired, then the RAF performed a flyover, that was breathtaking. If you see any footage of the day, you'll see Prince William pointing and explaining to his wife, Kate, about the airplanes (as he is a part of the RAF, of course). Can you say Prince Charming?
Too bad for those that wanted to sleep. For this girl, today was a dream come true - just like a fairy tale!
The Queen, Her Majesty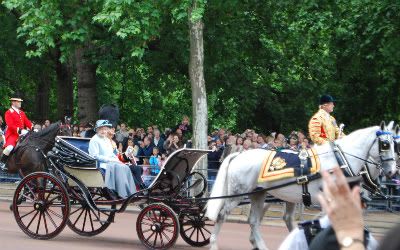 Prince William on Horseback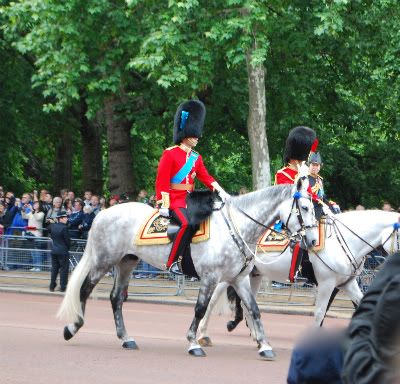 Princess Kate & Prince Harry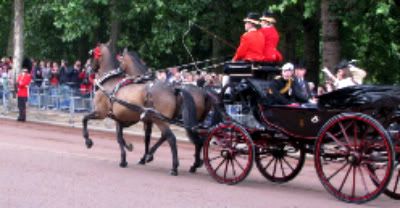 The Royal Family on the Balcony at Buckingham Palace
The Flyover