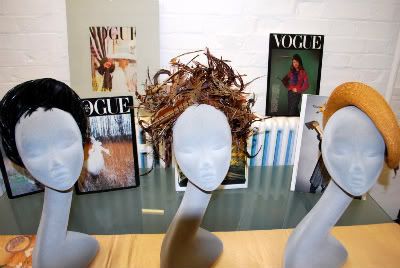 British Fashion has a few standouts - Street Style, is one of them. High Street Fashion, or what we might refer to as "fast fashion", is another. One other aspect where they surely have the market cornered? Millinery. And we were lucky enough to have a visit with one of the premier milliners in London.
Prudence, of Prudence Millinery, got her start apprenticing for another hat maker years ago. She learned the basics, then branched out on her own and hasn't looked back since. She currently makes custom hats for Vivienne Westwood, YSL and many, many other designer collection runway shows. She is regularly featured in fashion spreads, and on magazine covers. Here is Prudence herself, showing us her very first, and most special, magazine cover - Vogue Italia, with Linda Evangelista on the cover, wearing one of her pieces. Did I mention this was her first magazine cover? Did I mention it was Italian Vogue?
She showed us great fabrics that she works with too. She sources them mostly from Paris, but she looks for them everywhere. This one was made from pineapple fibers.
She mesmerized us with her beautiful British ways - her pink cheeks, her soft manner, and her cup and saucer on her work station. She had the tiniest and loveliest of little studios, and worked directly with her husband, who she affectionately called her "Pierre Berge" (the reference is a nod to Yves Saint Laurent's love and business partner, Pierre Berge - Pierre was the business, Yves was the creator). She showed us all her tools, and shared how she often allows apprentices to work with her (where can we sign up?). Millinery is such an incredible craft, we were so pleased she was willing to share.
Hat Blocks