Punk is probably my favorite street style. I love it's history, particularly, the story of Malcolm McLaren and Vivienne Westwood, and her influence over early punk design. This morning we went down to 430 Kings Road in Chelsea, to visit the actual store that gave birth to the Sex Pistols, and the look that followed, inspiring designers for generations to come. The shop, now called World's End, is a tiny little boutique with slanted floors and low ceiling. It's packed with current Vivienne Westwood designs, and some classics (like the chicken bones shirt) hanging on the walls. The shop manager, Lisa, was happy to share stories of those that still visit the store, surely to relive their heyday - such 70's and 80's icons as Adam Ant, Steve Jones, Glen Matlock, Billy Idol, Pete Burns and Siouxsie Sioux. Oh the history of it! No photos allowed inside, but here's a shot of the outside, complete with the 13-hour clock that runs backwards...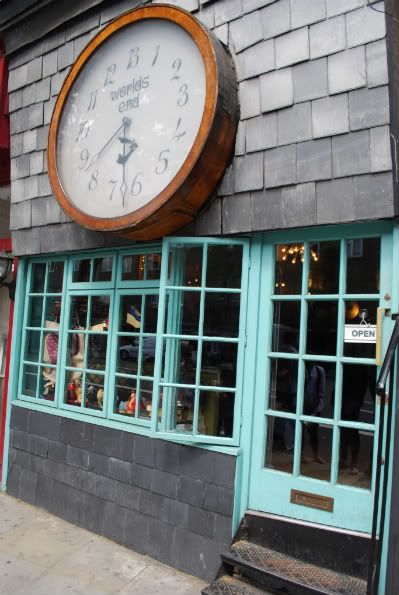 We spent some time exploring Chelsea, then made our way to Harvey Nichols, one of Britain's top department stores. We enjoyed a spot of afternoon tea & scones, welcomed on this cold afternoon (the weather here is wild!). Who knew we could be so civilized?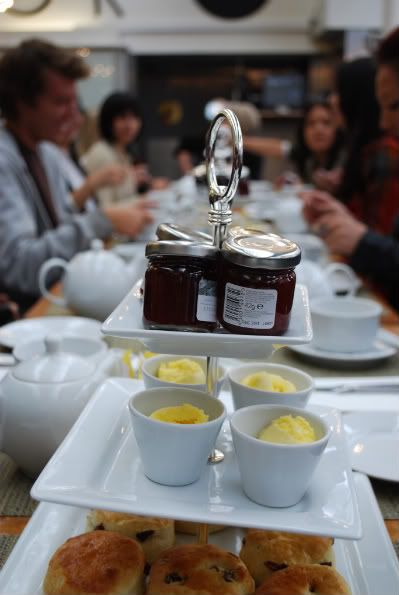 Following the tea, we were greeted by Emma and Gary, who led us through the 7 stories of wonderfulness - and right past a setup for a Jimmy Choo event this evening with Tamara Mellon!
There are amazing fashion things happening in this city every which way you turn...Take for example these beautiful store windows at Harvey Nichols, that were curated to coincide with the Alexander McQueen exhibit at the Met in New York. Harvey Nichols was able to obtain a few pieces from McQueen's retrospective to place on display in their windows during the duration of the exhibit. Oh, to see them up close. They are even better and more magnificent than you could ever imagine.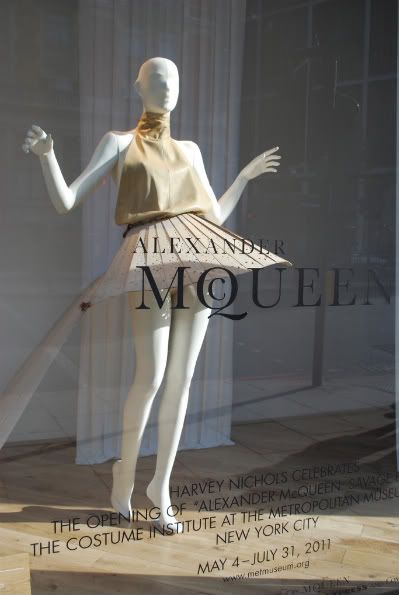 And in another example of that...check out the Karl Lagerfeld Diet Cokes! Exclusive to Harvey Nichols.