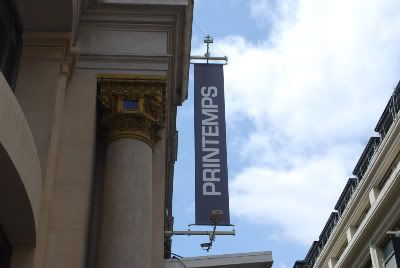 While in Paris, we were invited to spend the afternoon at Printemps - Paris' premiere luxury department store. Although that may make this store sound somewhat staid, and it was anything but. What a magnificent place. The afternoon started off in Printemps' headquarters, where we were greeted by Maguelone Castan and Marion Pommelet, who gave us an overview of Printemps' history, their placement in the marketplace, and how the brand has grown and evolved over the years. We were then led to Citadium, their concept store for the young and hip. And oh was it ever. We were shown around by the store's manager and visual manager - two great guys who've been in the retail business their entire careers, working their way up the ladder. This store's energy oozed from every corner.
We were then led directly across the street to Printemps' flagship store, and right in the VIP entrance. There we were greeted by the store's VIP manager. This esteemed gentleman's job is to host the store's most VIP visitors - and naturally, being from SoCal, we were thinking celebrities. Not so much. Our host led us back to a private VIP room (gorgeous furniture, wall treatments and fine cosmetics on display). This is where he told us about his clients who drop thousands, or even millions, in the store. Think Sheiks, Princes, Princesses, Dukes, Oil Moguls and more. He shared a story of one client who upon arrival said "I want to buy your most expensive watch." And sight unseen, he did.
We were then led through the store, seeing all the wonderful floors of jewelry, accessories, fashion and shoes - of which they stock 90,000 pairs on a daily basis. Yes, we made him repeat that number. Twice.
Then we headed up to one of the store's restaurants (there are 7 in total), which I almost shouldn't mention as there will be no words to describe it. The domed ceiling, a historical landmark, was solid stained glass in colors so magnificent, it took your breath away. The ceiling must tower at least 40' above, and all of the tables in this round room are fitted with mirrors, so that even when you are dining, you don't miss the brilliance coming from above.
We were then led to the rooftop restaurant, where several stories up, you had a panoramic view of Paris. This was the only spot on the tour where pics were allowed, so here we are:
Following that, we thought, what more could they possibly show us? Loads, apparently. We were treated to coffee, tea and macaroons (yes, the pretty french ones), and sat down to a slide show presentation from Cynthia Rousell, one of the store's Style Office directors. Cynthia, an ex-pat from Philadelphia who moved to Paris at 19, told us how she started off modeling, then worked in all of Paris' top fashion houses, including Dior and Celine, finding herself decades later, predicting the trends for Printemps. She gave us a fantastic overview of how they search for trends, and then a rundown of the trends for this season.
Think we are done yet? Non (that's French). Next up, the Head of Retail Buying, who manages up the 90-person buying team for all of Printemps 17 stores in France. He spent a considerable amount of time with us going over their buying process, challenges, and how they go after sought-after products in France - like Coach! We all got a good laugh over that. Who knew?
We left Printemps elated and inspired. We will be surely telling everyone we know to stop by next time they are in Paris. Merci Printemps, for the tres bon day!