We set out today to visit Thom Sweeney, a bespoke tailor in London's Mayfair district. Amazing. We were hosted by the firm's cutter, Matt Gonzales, who as it happens, got his start at OCC in Fash 100! He took just a few classes with us, then left for England to study at the famed London College of Fashion. Post-graduation, he got a lucky break and landed a job at Thom Sweeney. There he cuts suits for financiers, moguls and even Kelly Slater! The craftsmanship was incredible, but was enhanced by the sheer design of the firm's shop - manly, with feminine touches and of course, the obligatory scotch cabinet in the back. The place oozed wealth and the well-dressed man. Big props to Lauren Becker for the hook up - so far our favorite stop of the trip!
Later in the day, everyone got a break to go explore. The free time for me meant an opportunity to catch up with a former intern (and recent CSULB fashion department grad) at London's famed Tate Modern museum. Shannon, her boyfriend Jack, and I had a cup of coffee at their 7th floor cafe, overlooking the Thames river and watching the rain pour down. She brought me up to speed on life in London, including her internship at Harper's Bazaar magazine, and her new job in fashion publicity!
Americans in London, making a go of it in the fashion world. Love it. So inspirational.
Thom Sweeney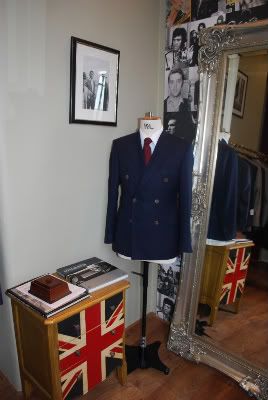 Bespoke Suits in Progress